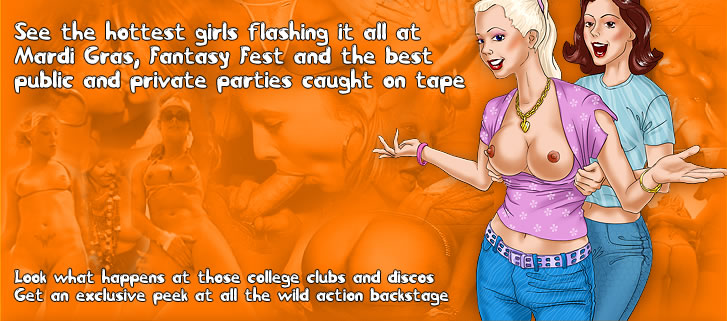 Freak FestMovie length: 55 minutes
You may have been to a street festival before, but you've never been to one like this. Key West is the coolest town in the country, and we've got the footage to prove it. This yearly event brings together the hot freaks from around the country, and there are no rules. Naked girls in the streets, nude body painting, fetish costumes, beads for boobs. Like all our videos, this was mastered from the original DVD so you can download this MPEG video and enjoy the awesome quality. Come inside and get freaky with all the horny women at Freak Fest. 55 minutes of public party fun!


Bartender's BashMovie length: 65 minutes
Every May in the Florida Keys they throw the wildest boat party in the world called the Bartender's Bash. The film crew got arrested for filming this and the cops tried to keep the footage. This is the seized video. Check out the bikini clad coeds playing drinking games and showing of for the crowds. Babes on boats. Chicks in bikinis. Chicks on boats without their bikinis. This awesome MPG movie has it all. The quality is superb. The girls are hot! You can watch everything online or download it to your hard drive to enjoy over and over again. Come party naked in Florida!


Private PartyMovie length: 48 minutes
What happens when you throw a party for a bunch of hot girls and their closest gal pals? A lot more than you think! We catch a glimpse (and much, much more) of these party girls as they hit the town during one of their infamous 'Girls Night Out' adventures. They take a limo, hit the nightclubs, and continue the party back at home til' all hours. You'll feel like you were there too as we spy on everything that happens. This video is 48 minutes long and you can download the MPG in a single 390 MB file or the same high quality video in 26 smaller segments. Girls love girls too!


Wild AdventureMovie length: 71 minutes
Experience our best footage ever from nightclubs and street scenes to Mardi Gras and Fantasy Fest. You've never seen footage this hot and crazy. We've captured unsuspecting hotties and real 'up the skirt' thong and bare beaver shots. Bartenders Bashes and Spring Break show-downs in Key West. We caught it all on tape and you can download these MPEG movies and watch them on your computer. This is some our highest quality footage that we transferred from the original DVD so you can get all the hot party scenes online. Come inside and party with us!