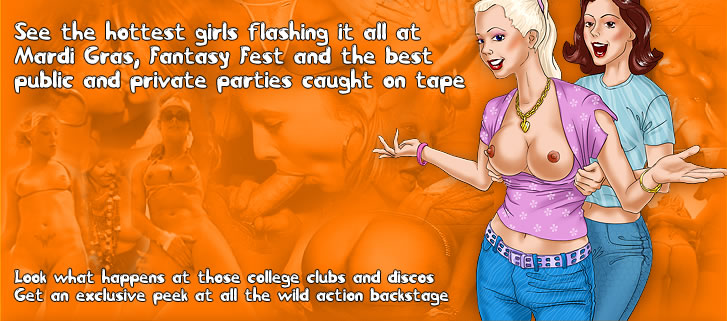 Mardi Gras And MoreMovie length: 56 minutes
We bring you Mardi Gras like nothing before. Girls flashing everything & everywhere, Wild Rednecks, Chicks beating up guys, Celebrities and then some. You'll wonder how they managed to avoid getting arrested! Like all our videos, this was mastered from the original DVD so you can download this MPEG video and enjoy the awesome quality. The action is fast! Women are flashing their tits, asses & pussies nonstop! 56 minutes of high quality video footage from the streets of New Orleans. The women of Mardi Gras love to get drunk and have fun flashing their bodies for beads.


Fantasy Fest: Volume 1Movie length: 87 minutes
Key West , Florida in October is host to Fantasy Fest, the hottest most out-of-control celebration of sex and debauchery. No sight goes unseen and drunken bead whores show all for those highly coveted beads. Lots of body painting. Tons of flashing. Real women take this chance to break out of their shells and become party divas for the day. This video is 87 minutes long and you can download the MPG in a single 708 MB file or download the same high quality video in 46 smaller segments. Fantasy Fest comes once a year. You can have it every day.


Out Of ControlMovie length: 51 minutes
We've gone through footage dating back 3 years to compile this "Best of the Best" volume of real wild party girls. You get it all... out of control college girls on Spring Break, groupies getting crazy for backstage access, Mardi Gras flashers... We even snuck cute lesbians into this video! Mastered from the DVD original, this video has awesome quality and you can watch it online or download it to your hard drive to enjoy over and over again. There are some really hot coed cuties on here. Tons of amateur girls that just want to party all day & all night long.


ClubbingMovie length: 55 minutes
Our crew took a trip around the colleges in the state of Florida. We got invited to all the hot spots where the college cuties like to party. The more they party , the wilder they get. It must get hot in these Florida clubs because these girls couldn't keep their clothes on! I give them an A+ for their "In the Club" moves... Check out these kissing coeds. Awesome dancing upskirts and girls flashing everywhere. The booze flows and the these drunken club kids know how to have fun. We caught it all on tape and you can download these MPEG movies and watch them on your computer.